SCOTLAND'S ONLY GLATT KOSHER
CATERER & FOOD SUPPLIER
Castle Vacations in Scotland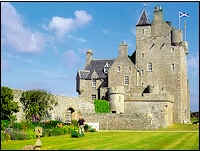 We can help you plan your
Glatt Kosher tour in Scotland
Enjoy a Glatt Kosher Vacation staying
in a Castle and let L'Chaim's Restaurant
supply your food and/or send a Chef and
Mashgiach to serve your food at the castle
during your vacation in Scotland.
For Scottish Castles to rent
Click Here
The Park in Aberdeenshire
Near Banchory
We supply Breakfast and Lunch trays, Sandwiches plus one, two, three and
four course meals delivered to your hotel, conference or business meeting
For a Menu of Glatt Kosher Meals we can
supply throughout Scotland,
an Order Form & Price List
Click Here
We can supply you with all your
Glatt Kosher food requirements if pre ordered
from L'Chaim's Restaurant at
any venue in Scotland.
Glatt Kosher Meal delivery extra.
For a Menu of Glatt Kosher Meals we can
supply throughout the Scotland,
an Order Form & Price List
Click Here
For all your Glatt Kosher Food Requirements in Scotland contact
L'Chaim's Glatt Kosher Restaurant and Kosher Caterer for a Personal Service