SCOTLAND'S ONLY GLATT KOSHER
KOSHER FOOD EATING IN SCOTLAND
KOSHER CATERER & FOOD SUPPLIER
KOSHER EATERY IN SCOTLAND
KOSHER RESTAURANT IN
GLASGOW SCOTLAND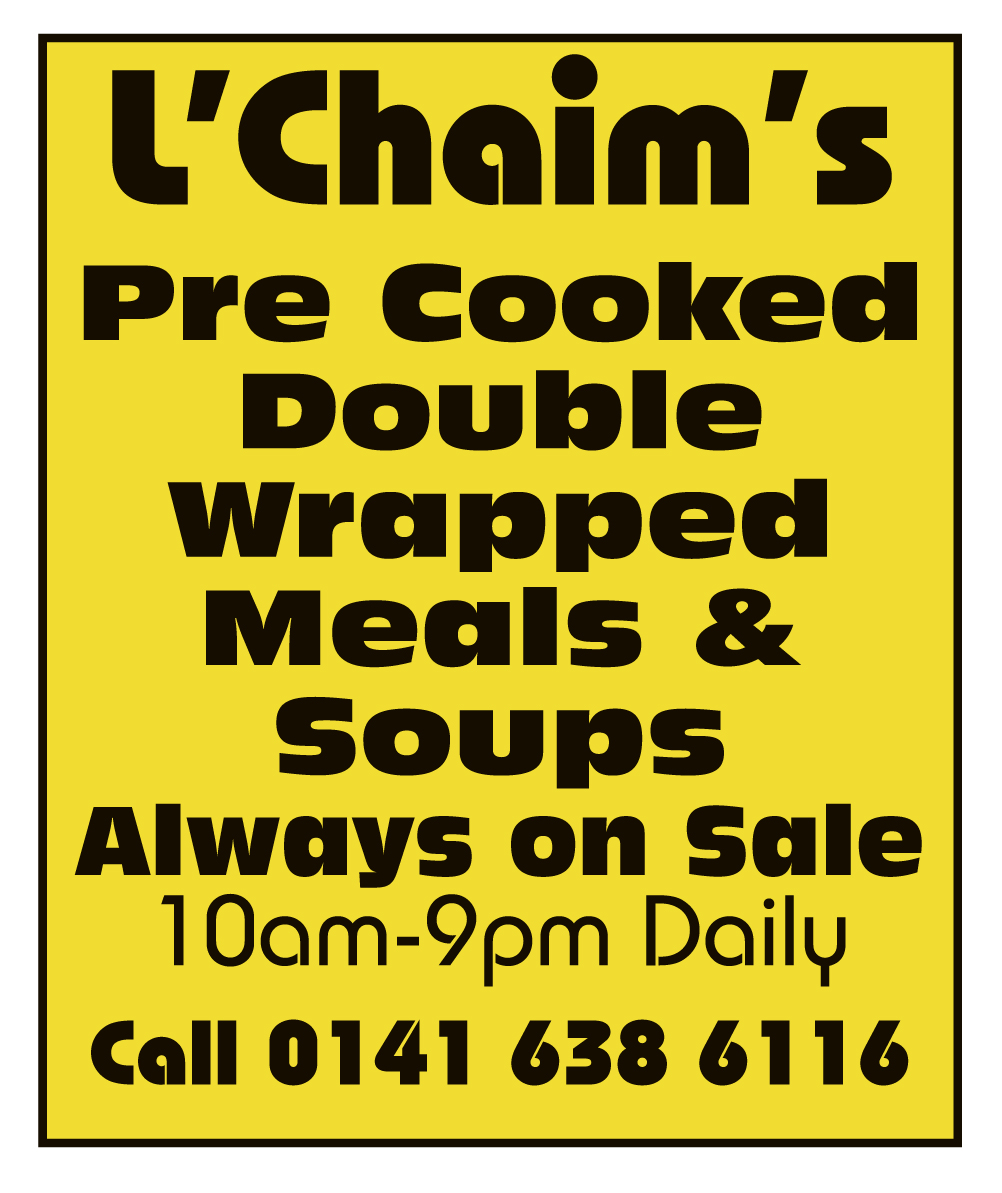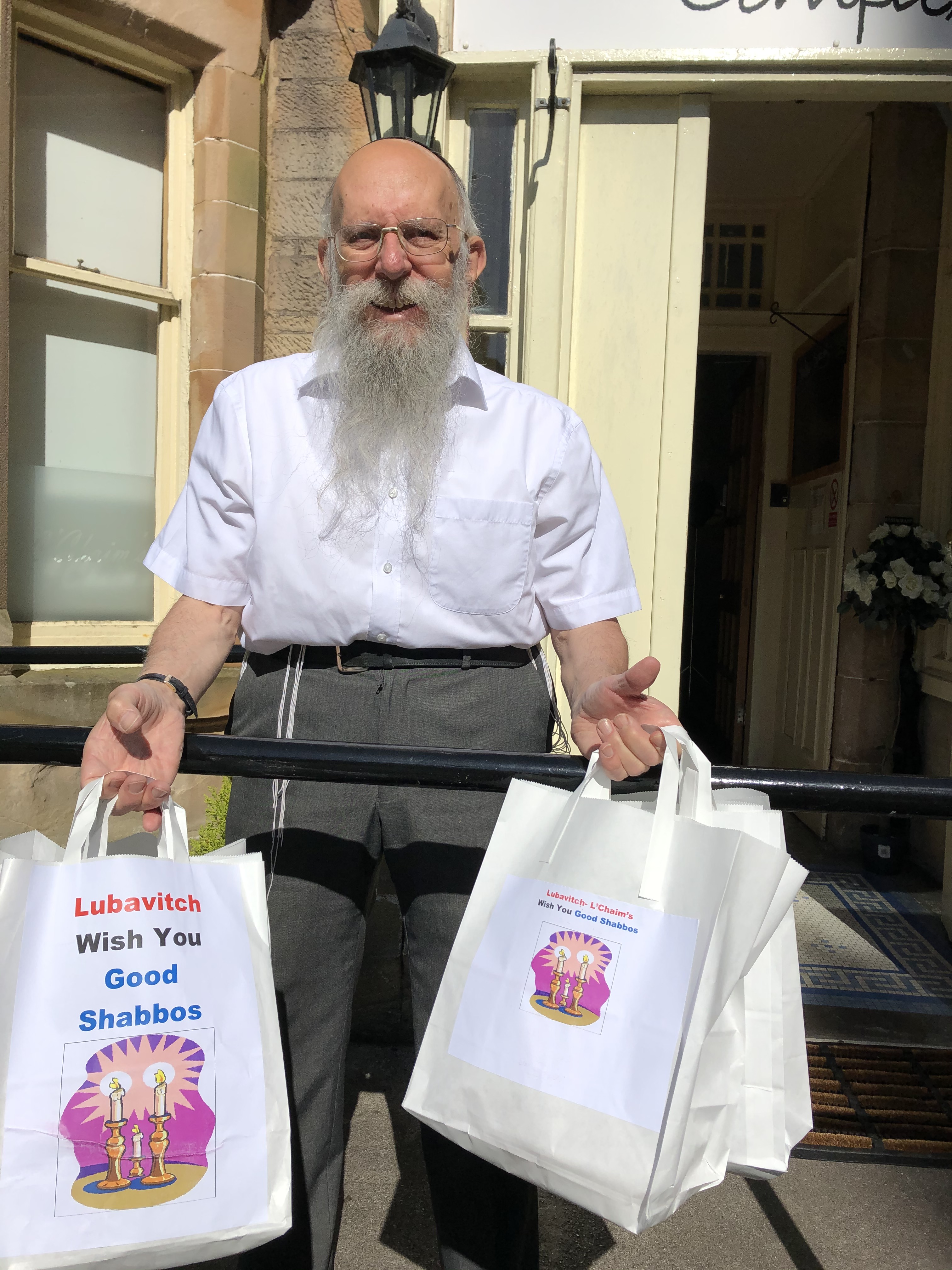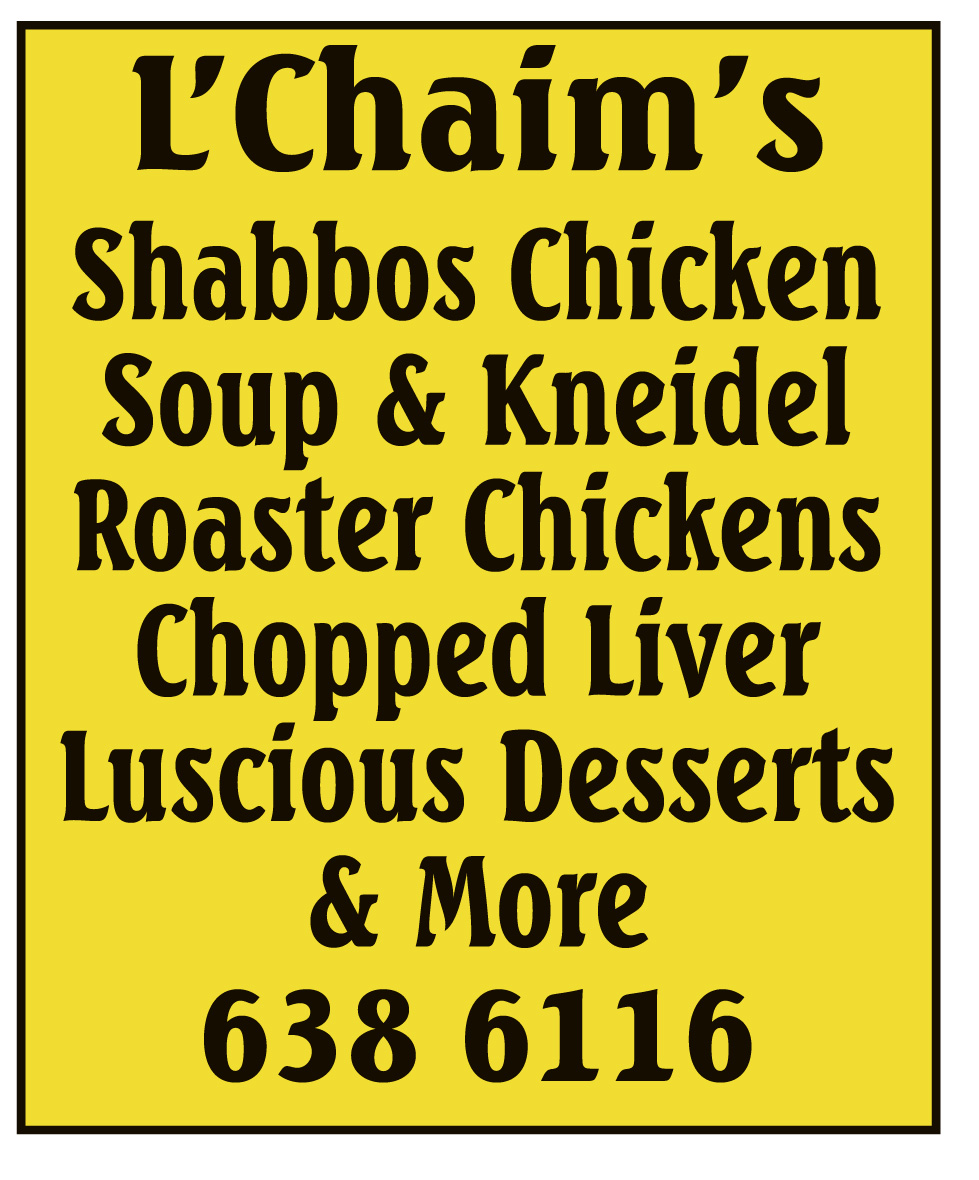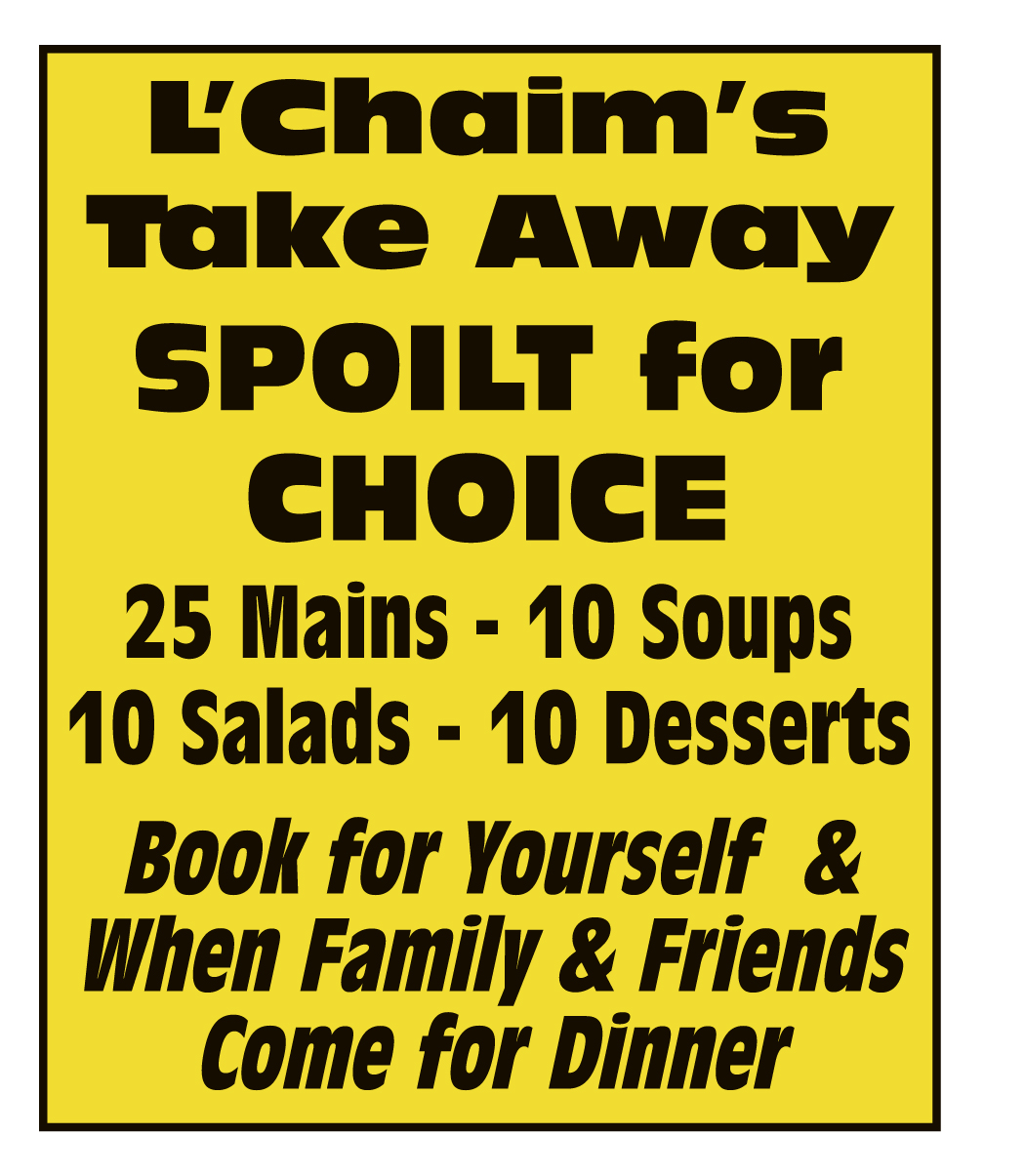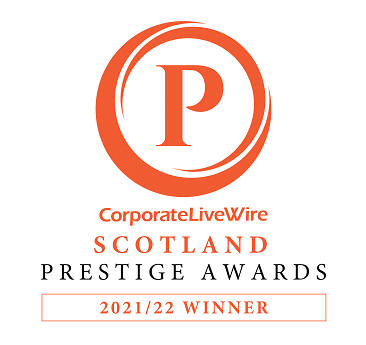 CALL 0141 638 6116
Cafe Currently closed due to CoronaVirus Crisis.
FOOD SUPPLY ALWAYS AVAILABLE

For Full Range of Home Delivery Menu & Prices See Below:

ANYONE UNABLE TO PAY OUR PRICES SHOULD BE
IN TOUCH IN STRICTEST CONFIDENCE

WE WILL TRY TO HELP THEM AS MUCH AS WE CAN

www.Lubofscot.co.uk www.Lchaimsrestaurant.co.uk www.chabad.org
Currently Due to Covid our Restaurant and Cafe are only
Open for GROUPS of 12 or more persons for in House Dining
We are currently Supplying Take Away
& Double wrapped Foods to Take Away
We Can Deliver too. Charges apply
Spoil Yourself & Your Family With
LíChaimís Delicious TAKE AWAY Budget Meals
Call to be placed on our Daily Email List

0141 638 6116 / 07957 605 005 / 07971 502601
All Items Subject to Availability
ALWAYS Mention If you have a Food Allergy.
All Foods priced for One Average Portion
Good quality Plastic Plates, Porcelain plates
and good quality plastic and metal cutlery
available on demand. Please ask for prices
Food items can be supplied double
wrapped at no extra charge. Please ask.
Starters
Egg & Onion 100 grams £3.00
Chopped Liver 110 grams £5.00
Chicken Wings x 5 £5.00
Plated Smoked Salmon 80 grams £5.50
Plated Fan of Melon & Berries £5.00
Assorted Soups:
Butter Nut Squash Soup £3.50
Lentil Soup £3.50
Minestrone Soup £3.50
Mediterranean Tomato Soup £3.50
Chicken soup with
Lokshen & Knaydlech £5.00
Fish Options
*4 Slices of Gefilte Fish Log
with chraine £4.00
4 slices of Fish Log
in Tomato Sauce £4.00
Fresh Fried Haddock £6.00
Fresh Salmon £5.50
Haddock Provencale
Supplied with two sides
listed below £16
Chicken Options
Whole Roaster Chicken
in gravy Ėaverage size £18
Sweet & Sour Chicken & 1 side £7.50
Chicken Curry & 1 Side £8
Fresh Roast pieces of Chicken and 2 Sides £8.50
Roast Turkey in Gravy & 2 sides £
*3 Slices Saltbeef (99 grams),
2 Latkas & Coleslaw £
Lamb Tagine & 1 Side £10
Roast Lamb in Gravy with 2 sides £10
Roast Beef in Gravy with 2 sides £9
Beef Goulash with 1 side £7.50
*3 slices Saltbeef, 2 Latkas
& Coleslaw £8.00
Sweet & Sour Meatballs & 1 side £7.00
Onion Gravy Meatballs with 1 side £7.00
Cottage Pie £7
Meat Lasagna £7.00
Single Tub Portions of
Meat Zimmes with dumpling £5
Meat Cholent £4
We can supply a slow cooker for your cholent
Single Latkes £1 each
Sides & Veggy Options
Sold as a side with your meals as above.
Individual Potato Kugel 1/2 portions £4
SIDES
Listed below each £3.00
Mashed Potato, Roast Potato,
Rice, Couscous, Sweet Carrots,
Red Cabbage, Mixed Veg,
Veggy Cous Cous, Peas,
Individual Potato Kugel 1/2 portions £4.00
Individual Potato Kugel 3/4 portions £7.50
Latkes £1 each
Stuffed Peppers £6.50
Veggy Lasagna £5.50
Mushroom or Vegetable Strudel £4.00
Meat Zimmes and Dumpling £5 per tub
2 Coloured Yerusholyim Kugel £2
Slice of Lokshen Pudding £2.00
Salads
Subject to Availability
250 grams per tub
Coleslaw, Cucumber Salad,
Mixed Salad, Curried Chick Pea Salad,
Pasta Salad, Potato Salad each £3.00
Strawberry Mango Salad £4.00
You need to order salads in
quantities two of each salad.
Desserts
Lokshen Kugel Tub £3.
Lattice Apple Pie £2.
Dark Chocolate & Dark
Mint Chocolate Mousse £3.50
Chocolate Tart & Lemon Tart £3.50
Fresh Fruit Salad 250 grams
Subject to availability £4.
3 Miniature Pastries £3.50
Chocolate Kuchen Loaf £5.50
Chala Rolls 80p, Small Chala £2.50
Large Chala £4.25
Cheese Blintzes £2.50
Sold in tubs of TWO = £5
Variety of Kosher Wines from £13.00
Mini Bottle Kedem Grape Juice £1.50
Kedem 650 ML Grape Juice £3.00
Kedem Kiddush wine £8
To Order Call Chaim: 638 6116
or 07971 502 601
To guarantee your Shabbos Food please order
by 5pm on previous Monday before arrival.
We will however try our best to fill
all late orders subject to availability
Chocolate Kuchen Loaf £5
Chala Rolls 80p, Small Chala £2.50
Large Chala £4.25
*We supply Bespoke Fruit Platters,
Sandwich Platters, Mini Bagel Platters
*We can supply Your Elegant Shabbos Meals,
For ALL Ė All Year round
Dinner Party Foods.
Menu Available on Request
*We Supply Meal Platters &
Elegant Plastic Tableware & Cutlery
for your Home Function
If your Favourite item is not listed
Please Ask
Variety of Kosher Wines from £12.00
Mini Bottle Kedem Grape Juice £1.50
We deliver, call to ask for charges
To Order Call Sora: 638 6116
or 07971 502 601
To guarantee your Shabbos
Food please order by 5pm on Weds
We will however try our best to fill
all late orders subject to availability
Cafe Menu not available at this time
due to the Corona Pandemic
Starters
Soup of the day £3.00
Chicken Soup and Knaydels £3.50
Chicken Wings and Garnish £4.00
Egg & Onion with Matza Crackers £3.50
Chopped Liver with Egg & Onion with Matza Crackers £4.50
Fan of Melon £2.50
Baguettes
All Baguettes are served with a salad garnish
Tuna Mayo £4.50
Egg Mayo £4.50
Salt Beef Cole Slaw £6.50
Smoked Salmon & Cole Slaw £5.50
Sliced Egg & Salad £4.50
Chopped Liver £5.50
Main Courses
Salt Beef & Chips £9.95
Grilled Chicken on a Bun with Garnish & Chips £6.95
Beef Burger on a Bun with Garnish & Chips £6.95
Fish & Chips, Coleslaw & Garnish £7.95
Salads
Egg Mayo £4.50
Tuna Mayo £5.50
Egg & Tuna £6.50
Sliced Egg £4.50
Smoked Salmon £6.50
Avocado £5.00
Grilled Chicken, Salad & Coleslaw £6.50
Sides

Latka £2.00
Chips £2.00
Cole slaw £2.00
Side Salad £2.25
Baquette 75p
Desserts
Ice cream £3.00
Strawberry Sundae £3.50
Scone x 2 with Jam £2.50
Scone x 2 with Parev Cream & Jam £3.00
Strudel £1.25
Mini Danish x 2 £1.50p
Drinks
Coke Diet & Regular £1.25
Irn Bru Diet & Regular £1.25
Sparkling Water £1.25
Fanta £1.25
Pure Juice - Apple or Orange £1.25
Tea, Herb Tea or Coffee £1.25
We also have a Wine Menu Please ask

We hope you enjoy your meal
Please note Any offers cannot be changed for other items
Don't think of Cost. Think of Value!
Prices and menu may change without warning
For all your Glatt Kosher Food Requirements while visiting Scotland contact:
Scotland's ONLY Glatt Kosher Kitchen, Restaurant, Caterer & Eatery
L'Chaim's Glatt Kosher Restaurant and Glatt Kosher Caterer for a Personal Service

LíChaimís Scotland's ONLY Glatt Kosher Restaurant & Kosher Caterers
Kosher Caterers in Glasgow Kosher Caterers in Scotland Kosher Caterers in Edinburgh