Kosher Food in Glasgow Scotland
Travel to Giffnock
For L'Chaim's Restaurant
& Giffnock Shul
222 Fenwick Rd. Giffnock. Glasgow G46 6UE
By Car or Taxi
By Train is given below
Two minutes drive from Eastwood Toll Roundabout
heading towards the city centre on the A77
When coming from the city centre Eglinton St
becomes Pollokshaws Rd. At Shawlands stay to the
left and continue along Kilmarnock Rd which
eventually becomes Fenwick Rd.
You can also come from the city centre on
the M8 over Kingston Bridge. Then take the M77 exit
for Pollok. At Pollok turn left off the exit and
follow signs for A77. Turn right onto Kilmarnock Rd
which becomes Fenwick Rd as detailed below.
Follow signs for Giffnock (Fenwick Rd) on the A77.
In Giffnock you will see a Mercedes dealer on the right and
BMW dealer on the left just before traffic lights.
After the lights you will see Kwik Fit on your right.
Immediately after Kwik Fit go through the
Traffic lights where you will see the Royal
Bank of Scotland on the corner on your right.
Drive through a mini set of traffic lights-road crossing.
Drive through two sets of islands in the middle of the road.
Immediately after the second set of islands you
will see a 'drive in' on your right. This is the
Synagogue car park where our restaurant is situated.
L'Chaim's is in the large house in the car park.
By Train
Take train from Glasgow Central station going to East
Kilbide. However, you don't go to East Kilbride get off the
train at Giffnock station.
Then walk over the foot bridge and walk straight ahead
towards the main road. At the traffic lights turn
left and walk two blocks.
222 Fenwick Rd is on the right after the second set
of traffic islands in the middle of the road.
Ask anyone where the synagogue is and they will tell you.
We are five minutes walk from Giffnock Station.
Remember Giffnock station is on the
Glasgow Central-East Kilbride train line.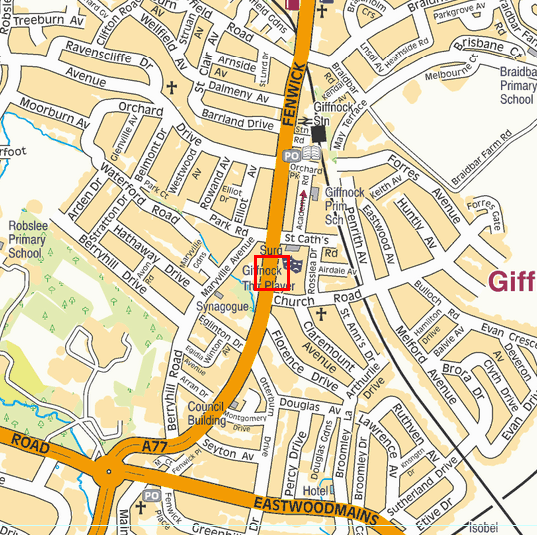 You can also find Directions from Google Maps
Click Here
For all four Glatt Kosher Food Requirements in Scotland contact
L'Chaim's Glatt Kosher Restaurant and Kosher Caterer for a Personal Service