SCOTLAND'S ONLY CATERER & FOOD SUPPLIER
Kosher Food in Edinburgh Scotland
Edinburgh Kosher Take Away / Edinburgh Kosher Meals Delivered
Throughout Scotland / Kosher Food Menu Click Here
Edinburgh Kosher Wine & Dine @
L'Chaimís Glatt Kosher
Restaurant 45 Miles from Edinburgh
0141 638 6116 or 07957 605 005

For Kosher Food in Edinburgh contact L'Chaim's Kosher Restaurant
Deliveries to Edinburgh a speciality

Kosher Take Away / Kosher Meals Delivered
Throughout Scotland / Kosher Food Menu Click Here
Wine & Dine @ LíChaimís Glatt
Kosher Restaurant & Caterer
(Lubavitch-Chabad) 0141 638 6116
lchaimsglasgow@aol.com
Completely Closed on Saturdays -
When no reply leave a message and we will deal with it promptly
on our return. Except on Shabbos please try other numbers given.
For Glatt Kosher Food in Edinburgh Scotland
Open or Closed Scotland's ONLY Mehadrin, Shomer Shabbos,
Glatt Kosher Kitchens, Glatt Kosher Restaurant
& Glatt Kosher Caterer & Glatt Kosher Food Supplier.
The ONLY Scottish Glatt Kosher Food Outlet
Under Constant Full Time Supervision
We Can always offer you a Full Range
of Glatt Kosher Food & Kosher Meals
from Glasgow's ONLY Glatt Kosher Kitchen
Take Away / Delivered Meals/Food Menu Click Here
Scotland's ONLY Glatt Kosher Restaurant
We use Kedassia & MH Shechita Only
under CONSTANT personal supervision of
Rabbi & Mrs Chaim Jacobs of Lubavitch
and the West of Scotland Kashrus authority
Our Kosher Kitchen opens daily ONLY
when the Mashgiach arrives
as per our Restaurant Kashrus Policy
We can help you plan your
Kosher tour in Scotland
Glenkinchie Distillery
Information for Glatt Kosher Food in Edinburgh
& Glatt Kosher Food in Glasgow Click Here
L'Chaim's where Elegance
meets Tradition
Open Most nights after Tisha B'Av
(15 Aug onwards) until end of August (subject to demand)
Open Tuesday & Thursday Evenings
and by arrangement
At all other times we can still
supply all Kosher Food Requirements
************************
Visiting Edinburgh this Summer?
Don't leave your bookings to the last minute as Most hotels and our Restaurant are really busy this Summer and you may find it hard
to book a Hotel at the last minute
'Gourmet Fine Dining' at its very best.
The Giffnock Shul Complex
222 Fenwick Rd. Giffnock G46 6UE






















































Private Diners Club
Persons attending must be a member of the
restaurant or introduced by a current member.
A Project of Lubavitch of Scotland
For Bookings Call 0141 638 6116 or lchaimsglasgow@aol.com
For Restaurant During Opening Hours Only 0141 577 8265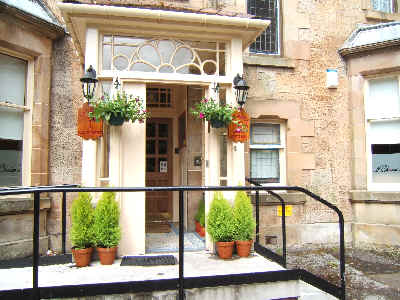 Kosher Restaurant.
'Kosher Fine Dining' at its Best.
Dine by Candlelight
@ Scotland's Gourmet & Only Kosher Restaurant
Tel: 0141 638 6116 or 07957 605 005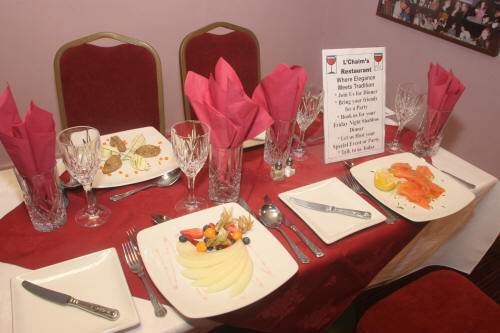 For a Menu of Kosher Meals we can
supply throughout Scotland,
and Price List
Click Here
For a Meals Order Form
Click Here

Hotels Kosher Meals Price List
and Information
Click Here
Our Meals come double wrapped
and can be heated in any Hotel
or Apartment Oven or Microwave
Visiting anywhere in Scotland
for Business or Pleasure?
We can provide all your Kosher food requirements
Breakfasts (Cholov Yisroel ONLY),
Lunches and Suppers available
at ANY hotel or business meeting throughout
Scotland and the north of England including
Carlisle, Gretna Green and the Lake District
We can meet you at Glasgow or Edinburgh Airport or Train station and hand you your meals.
Party groups welcome any evening
even when closed.
Kosher Gourmet Fine Dining
One/ Two/ Three / Four
Course Meals Available
********************
Enjoy our Salt Beef, Steak, Lamb
Chops, Seabass, Fish & Chips,
Latkes & Chopped Liver Options.
All food is freshly cooked in
our restaurant by our gourmet chef
Meal Prices and Details Listed Below
Kosher Sandwiches available.
Should be pre ordered.
View an article in various newspapers
Click Here
When you walk into LíChaimís restaurant you are invited to dine in one of the two candle-lit dining rooms each with their own decorative ambiance. Its elegant setting and smart decor is ideal for a relaxing night out, family parties, professional lunches, and business meetings.
Once seated, freshly baked French Baguettes are brought to your table and the experience of first class cuisine in trendy surroundings begins. Tables are covered in burgundy and white cloths and all meals are served on modern square plates along with Kings cutlery and crystal glasses. L'Chaim's has a wine licence and you can experience a choice of 15-20 popular Kosher wines. L'Chaim's is a first class restaurant which happens to be Kosher.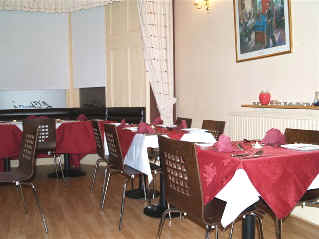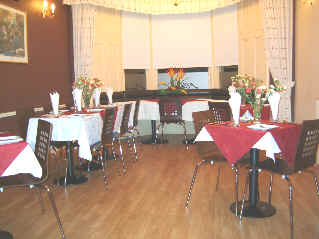 Kosher Children's Meals from £9.95
*** 3 Course Dinners including
Chicken Supreme, Lamb Cutlet,
Roast Chicken or Poached Salmon
from £20.95
** 2 Course Dinners including
Chicken Supreme, Lamb Cutlet,
Roast Chicken or Poached Salmon
from £16.95
** 2 Course Dinners including
Salt Beef £18.95
*** 3 Course Dinners including
Salt Beef £22.95
* One Course Meals
from £12.95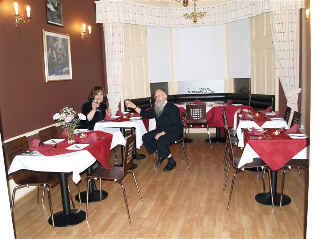 For Our Menus
Click Here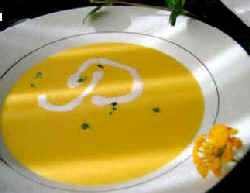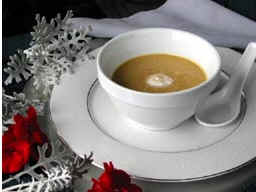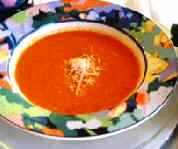 Enjoy our range of Kosher tasty soups
***********
Don't missing our
Tempting Kosher Desserts!
Childrenís portions available for children
aged under ten years.
Restaurant News Release
Click Here
Lubavitch
Kosher Restaurant in Glasgow.
Kosher Restaurant near Edinburgh.
Kosher Restaurant in Scotland.
Great Kosher Restaurants Kosher Edition
We recommend the Kosher Restaurant of
Chabad of Warsaw: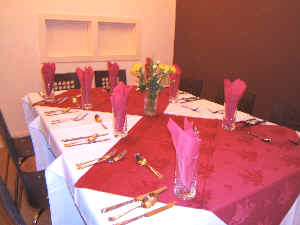 Prices and items may change without notice
Vegetarian Option available if requested when booking
L'Chaim's Kosher Restaurant
Scotland's ONLY kosher restaurant
Visiting Scotland you can enjoy your Kosher Food.
We are half hour drive from
Robert Burns Country.
One hour from Stirling Castle,
Loch Lomond, Edinburgh,
Whiskey Trails,
Gleneagles and much more.
Two hours to the Highlands.
Five Hours to Caithness
and the Scottish Highlands
L'Chaim's Kosher Restaurant
Scotland's New Kosher Restaurant
For current Days and Hours of opening
Click Here
Forthcoming Glasgow Scotland
Kosher Events Click Here
We Cater & Provide Kosher Food for Every Occasion including:
* Kosher Friday Night Suppers,
* Kosher Shabbos Lunches
* Kosher Food Activities for Singles,
* Kosher Small Barmitzvah Parties & Breakfasts,
* Kosher Sheva Brochois, Engagements,
* Kosher Musical Evenings
* Kosher Birthday Parties, ĎOuf Rufsí
and Kosher receptions following Stone Settings.
For your Kosher Food Catered function
Call Sora Jacobs
The Kosher Food Catering Manager
to arrange your function.
We look forward to welcoming
you at LíChaimís Kosher Restaurant
Glasgow's only Kosher Restaurant
Scotland's only Kosher Restaurant
For Questions in all matters
of Jewish Education and
Jewish Observance
* Touring info for Jewish people
* Shabbos Accommodation
* Kosher Food Availability
in Glasgow, Edinburgh &
throughout Scotland
Contact us at:
lchaimsglasgow@aol.com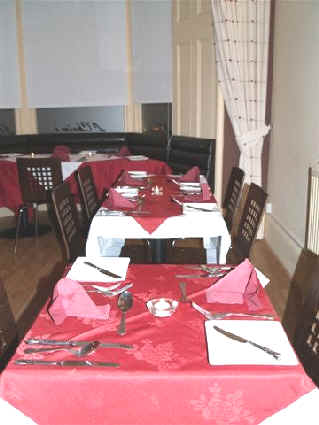 We have a Wine Table Licence.
For Our Wine List Click Here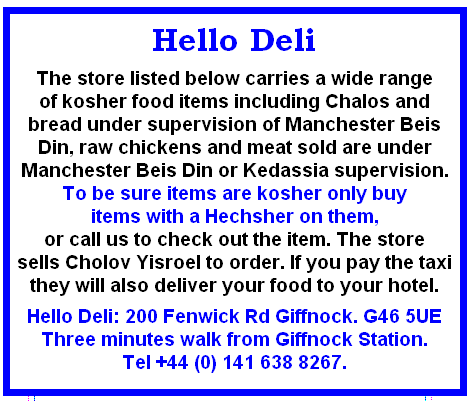 Remember wherever you buy your
food ONLY food sold in a
sealed packet is KOSHER
Unless it is bought from an establishment under
constant Kosher supervision
For Information about which
Kelloggs Cereals are Kosher
Click Here
Click on products.
Then the left side you will find a icon for Kosher.
A full list of kosher cereals will appear
For Hotels in the Lake District
Click Here
Logos for Kosher Food sold in Scotland
Click Here
or Click Here

You can use Alpro Soya milk together
with your cereal
Many Tivall Products are sold in
most branches of Holland & Barrett
throughout Britain.
You can wrap these products in two layers of cling film
and ask your hotel to heat them in any microwave!
Many Ryvita Products
carry a KLBD Logo
For all your Glatt Kosher Food Requirements in Scotland contact
L'Chaim's Glatt Kosher Restaurant and Kosher Caterer for a Personal Service

LíChaimís Scotland's ONLY Glatt Kosher Restaurant & Kosher Caterers
Kosher Caterers in Glasgow Kosher Caterers in Scotland Kosher Caterers in Edinburgh