Kosher Food in Glasgow Scotland
Kosher Restaurant Glasgow Scotland
Giffnock Shul
Glasgow Scotland
The only Shul in Scotland which has a
guaranteed minyan morning & evening
every day of the week.
222 Fenwick Rd. Giffnock.
Glasgow G46 6UE
Rabbi: Rabbi Moshe Rubin
Times of Shacharis:
Sunday 8.45 a.m., Monday & Thursday 7.20 a.m.,
Tuesday, Wednesday, Friday 7.30 a.m.
Shabbos morning 9.30 a.m.
Rosh Chodesh on Weekdays 7.10 a.m.
For Mincha-Maariv please call us on 0141 638 6116
or send an email: admin@giffnockshul.co.uk
If you stay at one of the hotels listed below in the Giffnock area you will be near our restaurant and Giffnock Shul.
This way you will have a minyan for all weekday and Shabbos services and a hot Mikve too!
We can help you with weekday and Shabbos meals even when the restaurant is closed. For meal prices
Click Here
The two hotels below are in the Giffnock area five or ten minutes walk from the Giffnock Shul. Try one of the two
hotels listed below:
Redhurst Hotel 0141 638 6465. Redhurst@lineone.ne
Orchard Park Hotel 0141 638 1044 Orchard Park Hotel Email: ozcapaldi@hotmail.com
Busby Hotel This hotel is a 45 minute walk to Giffnock Shul. It is safe to walk by day but not recommended
to do so at night.
Ewington City Hotel Balmoral Terrace, 132 Queens Drive, Glasgow, Scotland G42 8GW Tel:0141 423 1152
This hotel is a 45 minute walk to Giffnock Shul. It is safe to walk by day but not recommended to do so at night.
Glasgow Hotels Click Here
For more Glasgow Hotels Click Here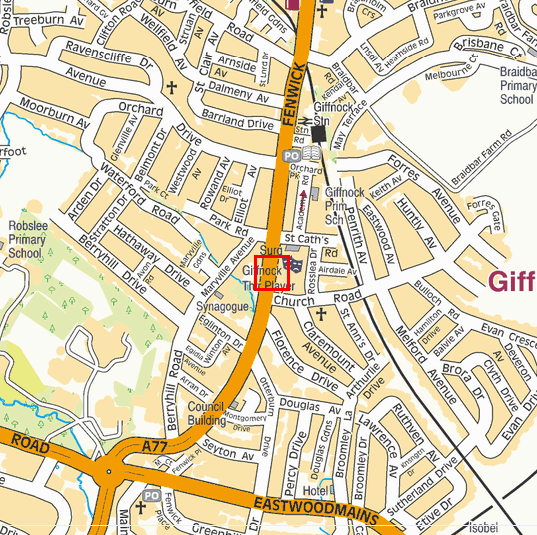 Two minutes drive from Eastwood Toll Roundabout
heading towards the city centre on the A77
When coming from the city centre Eglinton St
becomes Pollokshaws Rd. At Shawlands stay to the
left and continue along Kilmarnock Rd which
eventually becomes Fenwick Rd.
You can also come from the city centre on
the M8 over Kingston Bridge. Then take the M77 exit
for Pollok. At Pollok turn left off the exit and
follow signs for A77. Turn right onto Kilmarnock Rd
which becomes Fenwick Rd as detailed below.
Follow signs for Giffnock (Fenwick Rd) on the A77.
In Giffnock you will see a Mercedes dealer on the right and BMW dealer on the left just before traffic lights.
After the lights you will see Kwik Fit on your right.
Immediately after Kwik Fit go through the
Traffic lights where you will see the Royal
Bank of Scotland on the corner on your right.
Drive through a mini set of traffic lights-road crossing.
Drive through two sets of islands in the middle of the road.
Immediately after the second set of islands you
will see a 'drive in' on your right. This is the
Synagogue car park where our restaurant is situated.
L'Chaim's is in the large house in the car park.
Five minutes walk from Giffnock Station.
Giffnock station is on the Glasgow Central-East Kilbride line.

Click here for another map
A half hour drive from
Robert Burns Country.
One hour from Stirling Castle,
Loch Lomond, Edinburgh,
Whiskey Trails,
Gleneagles and much more.
Two hours to the Highlands.
For all your Glatt Kosher Food Requirements while visiting Scotland contact
L'Chaim's Glatt Kosher Restaurant and Kosher Caterer for a Personal Service