SCOTLAND'S ONLY CATERER & FOOD SUPPLIER
Kosher Food in Edinburgh & Glasgow Scotland
Edinburgh Kosher Jewish Tourist Information
Kosher Take Away / Kosher Meals Delivered
Throughout Scotland / Kosher Food Menu Click Here
Wine & Dine @ LíChaimís Glatt
Kosher Restaurant & Caterer
(Lubavitch-Chabad) 0141 638 6116
lchaimsglasgow@aol.com
Completely Closed on Saturdays -
When no reply leave a message and we will deal with it promptly
on our return. Except on Shabbos please try other numbers given.
For Glatt Kosher Food in Glasgow Scotland
Open or Closed Scotland's ONLY Mehadrin, Shomer Shabbos,
Glatt Kosher Kitchens, Glatt Kosher Restaurant
& Glatt Kosher Caterer & Glatt Kosher Food Supplier.
The ONLY Scottish Glatt Kosher Food Outlet
Under Constant Full Time Supervision
We Can always offer you a Full Range
of Glatt Kosher Food & Kosher Meals
from Glasgow's ONLY Glatt Kosher Kitchen
Take Away / Delivered Meals/Food Menu Click Here
Scotland's only Glatt Kosher Restaurant
An Activity of Lubavitch of Scotland
For Bookings Call 0141 638 6116 or lchaimsglasgow@aol.com
For Restaurant During Opening Hours Only 0141 577 8265
Glenkinchie Distillery
For Questions in all matters
of Jewish Education and
Jewish Observance
* Touring info for Jewish people
* Shabbos Accommodation
* Kosher Food Availability
in Glasgow, Edinburgh &
throughout Scotland
Contact us at:
lchaimsglasgow@aol.com
We offer to help you arrange Kosher Golf tours in Scotland for visitors from England, Israel,
the United States and worldwide. Contact us for some of our package deals.
We can help you arrange hotel accommodation and provide all meals during your trip.
We can supply Breakfast and Lunch trays, Sandwiches plus one, two, three and
four course meals delivered to your hotel, conference or business meeting
We can meet you at Glasgow or Edinburgh Airport or Train station
and hand you your meals.
For a Menu of Kosher Meals we can
supply throughout Scotland,
and Price List
Click Here
For a Meals Order Form
Click Here
Our Meals come double wrapped
and can be heated in any Hotel
or Apartment Oven or Microwave
Information for Edinburgh Glatt Kosher Food & Glasgow Glatt Kosher Food Click Here
You can arrange your own accommodation by finding a hotel in
the list below. If you are Shomer Shabbos you may want stay in the Giffnock
area of Glasgow near our restaurant at least for Shabbos at one of the two hotels listed below:
Redhurst Hotel 0141 638 6465. Redhurst@lineone.ne
Orchard Park Hotel 0141 638 1044 Orchard Park Hotel Email: ozcapaldi@hotmail.com
Parklands Country Club 4 Star Hotel
3 minute walk from Newton Mearns Shul
0141 639 9222 Email:info@parklandscountryclub.co.uk
This Hotel Is Kosher Friendly and will store and heat your Shabbos & Weekday Kosher Food
For more Glasgow Hotels Click Here
For Tourist Information you can call The Tourist office in Glasgow telephone +44 (0) 141 204 4400 or 0990 992244
If you are Shomer Shabbos we suggest you try to stay in the Giffnock area near our
restaurant and Giffnock Shul. This way you will have a minyan for all Shabbos services and
a hot Mikve too! We can help you with Shabbos meals. For prices Email for details: lchaimsglasgow@aol.com
We are half hour drive from
Robert Burns Country.
One hour from Stirling Castle,
Loch Lomond, Edinburgh,
Whiskey Trails,
Gleneagles and much more.
Two hours to the Highlands.
For Cheapest Air Fares From London to
Glasgow & Edinburgh See:
EasyJet.Com
Glasgow to Islay to visit the Distilleries
Trains to Scotland See:
Traveling by Car see:
AA Tour Planner
For Information about places
to visit in Scotland
click the items below
Glasgow Travel Guide

Glasgow Museums
The Scott Monument Edinburgh
Climb it's 287 steps!
Ayr- Alloway
Visit Burns Cottage
One hour drive from Glasgow
Two hour drive from Glasgow
One hour drive from Glasgow
Forty five minute drive from Glasgow
Forty five minute drive from Glasgow
Forty five minute drive from Glasgow
One hour drive from Glasgow
Golf Courses in Edinburgh & Lothians
One and half hour drive from Glasgow
For Questions in all matters
of Jewish Education and
Jewish Observance
* Touring info for Jewish people
* Shabbos Accommodation
* Kosher Food Availability
in Glasgow, Edinburgh &
throughout Scotland
Contact us at:
lchaimsglasgow@aol.com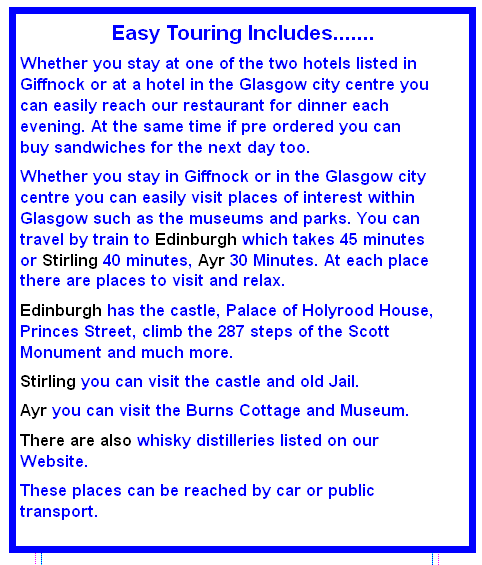 We have a Wine
Table Licence.
For Our Wine List
Click Here
Location of Redhurst Hotel
is given on the map below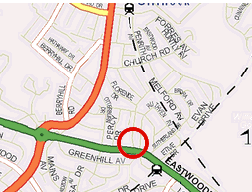 For all your Glatt Kosher Food Requirements while visiting Scotland contact
L'Chaim's Glatt Kosher Restaurant and Kosher Caterer for a Personal Service
LíChaimís Glatt Kosher Restaurant & Kosher Caterers

LíChaimís Scotland's ONLY Glatt Kosher Restaurant & Kosher Caterers
Kosher Caterers in Glasgow Kosher Caterers in Scotland Kosher Caterers in Edinburgh