Chanukah Activities 5774-2013
Have Included
Keep Warm This Winter With
Sora's Cafe Soups & Other Foods
New Activities this Year have included
Sending Gift Tubs of Soup from L'Chaim's Restaurant as a
gift to elderly and housebound people within the community.
It is planned to continue this activity throughout the winter season
so that older people will eat nourishing food particularly during the cold
winter weeks
'Sora's Cafe' has also produced a Budget Range
of good quality Cheap Food Products aimed mainly for
Elderly & Houseboound people to pucrhase at a very reasonable price.
These items are on sale to everyone in the community.
For Menu & Price List
Click Here
*************************************

Chanukah Activities 2012
Lubavitch Rabbi Chaim & Sora Jacobs, Rabbi Mendel & Tzirl Jacobs
and Sholom & Pessy Jacobs of New York and Family held Chanukah
Parties and events for the children of the Cheder and Bat Chayil Classes
and L'Chaim's Deli Social attended by 50 people. They also
distributed Chanukah gifts to clients of Jewish Care and
residents of Barrland Court.
Rabbi Mendel held a Chanukah Social for residents of
Walton Court on Monday evening
1100 Chanukah Guides were distributed throughout Scotland
<![if !vml]>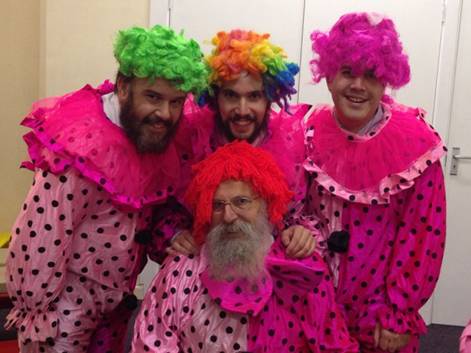 <![endif]>
| | | | |
| --- | --- | --- | --- |
| | | | |
| | | | |
| | | | |
| | | | |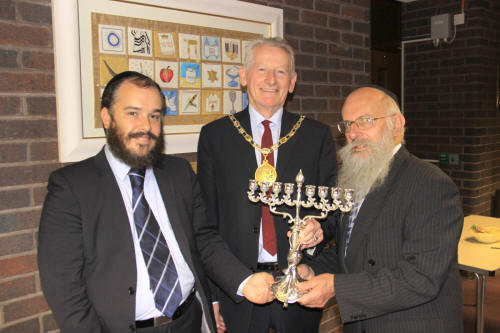 Rabbi Chaim Jacobs & Rabbi Mendel Jacobs
Presenting a Menorah to the
Former Provost of East Renfrewshire
Councillor Alex Mackie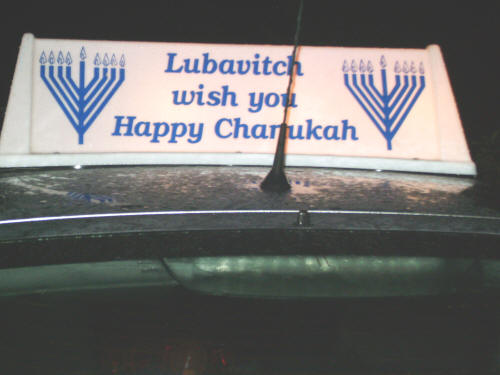 Publicising Chanukah with Car Roof Signs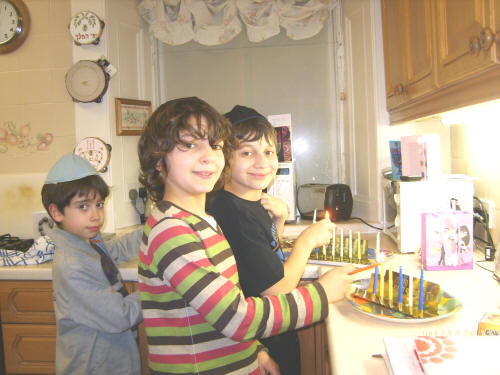 Children of Lubavitch Cheder Classes
Lighting the Menorah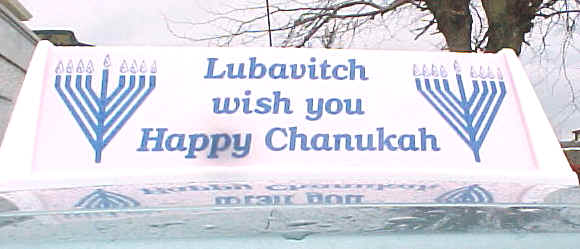 Bringing Jewish pride to the
Glasgow Jewish Community
and throughout Scotland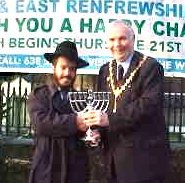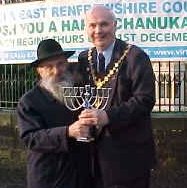 Former Provost (Mayor)
Allan Steele of East Renfrewshire
Council in Glasgow with Rabbi Chaim Jacobs
and Rabbi Mendel Jacobs at the launching
of the Chanukah banner November 2000,
which is displayed at Eastwood Toll Roundabout
throughout Chanukah each year.
This reminds the Glasgow Jewish Community
that Chanukah has arrived.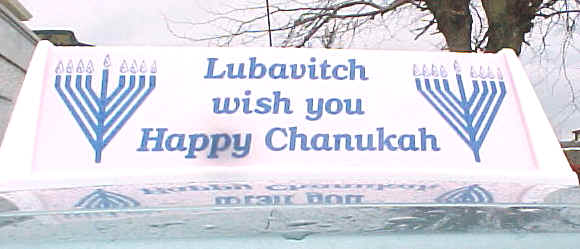 Four 'Happy Chanukah' Car Signs
reminded the Glasgow
Jewish Community Community
it was Chanukah
A large menorah was mounted in
Morrisons at Giffnock throughout Chanukah.
Before Chanukah 1100 Chanukah guides were
distributed to adults, and 100 sets of Menorahs and
candles were sent to people throughout Scotland.