Aims & Objectives of Lubavitch in Scotland
Lubavitch of Scotland is part of the worldwide Lubavitch movement
which is the world's largest Jewish Educational and Outreach movement
in the world. The movement is headed by the Lubavitcher Rebbe,
Rabbi Menachem Mendel Schneerson.
Our aim is to share the warmth, love and vibrance of Judaism with every
Jew regardless of their religious beliefs and financial circumstances.
Our aim is to provide educational programmes and social services programmes as and when required for members of the
Jewish community. Currently during CoronaVirus Pandemic Lubavitch has come to the aid of several hundred members of the community
who are vulnerable, lonely and need nourishing meals on a daily basis. We have also set up a community help line to help people in
need at this time.
Here in Glasgow over the years we have run and continue to run a wide range of activities for Jews of
all ages to include Cheder Classes, Bat Chayil Classes, Adult & Teenage Education,
Shabbos & Yom Hospitality Programmes, Pre Yom Tov Guides, Mailings
and Classes, Scotland's Only Kosher Restaurant and Café, Communal Seder,
Purim Dinner & Concert, Educational Evenings, and Programmes and regular
visits to Senior Citizens including subsidised lunches and free distribution
of soups throughout the cold winter.
At Lubavitch NOBODY is ever turned away because they cannot pay for
an activity. However funds must be found to pay for these activities.
Because many/most people benefitting from our classes and activities
are unable to fully pay for services rendered and for activities attended.
All programmes must be subsidised and we constantly seek Legacies and
Donations to help fund and subsidise our work.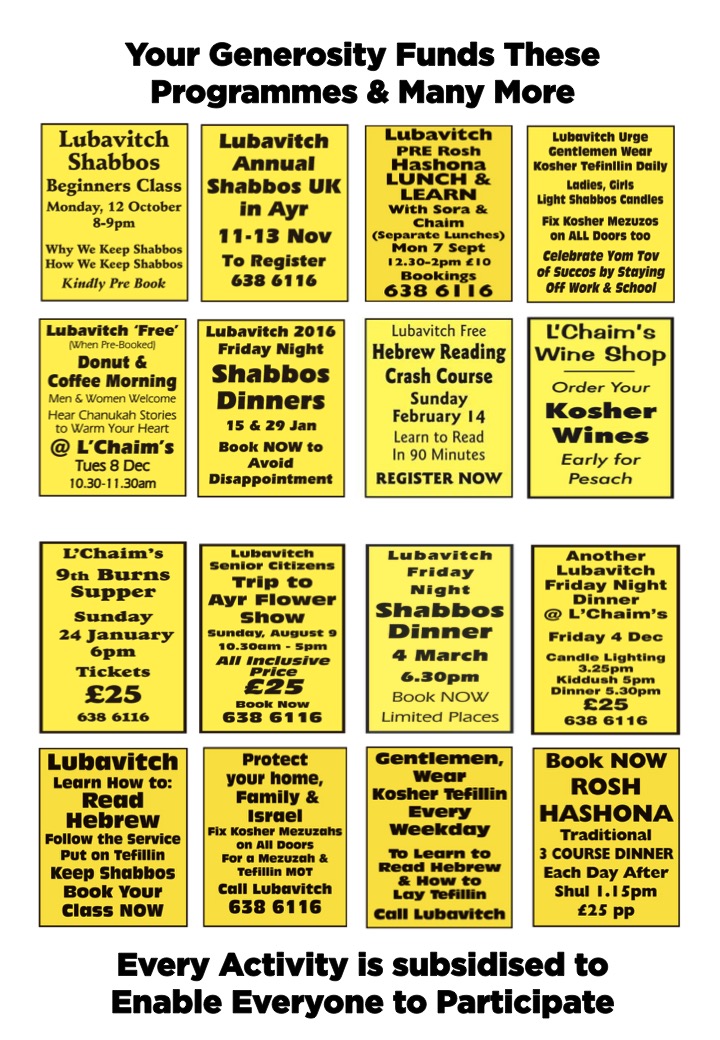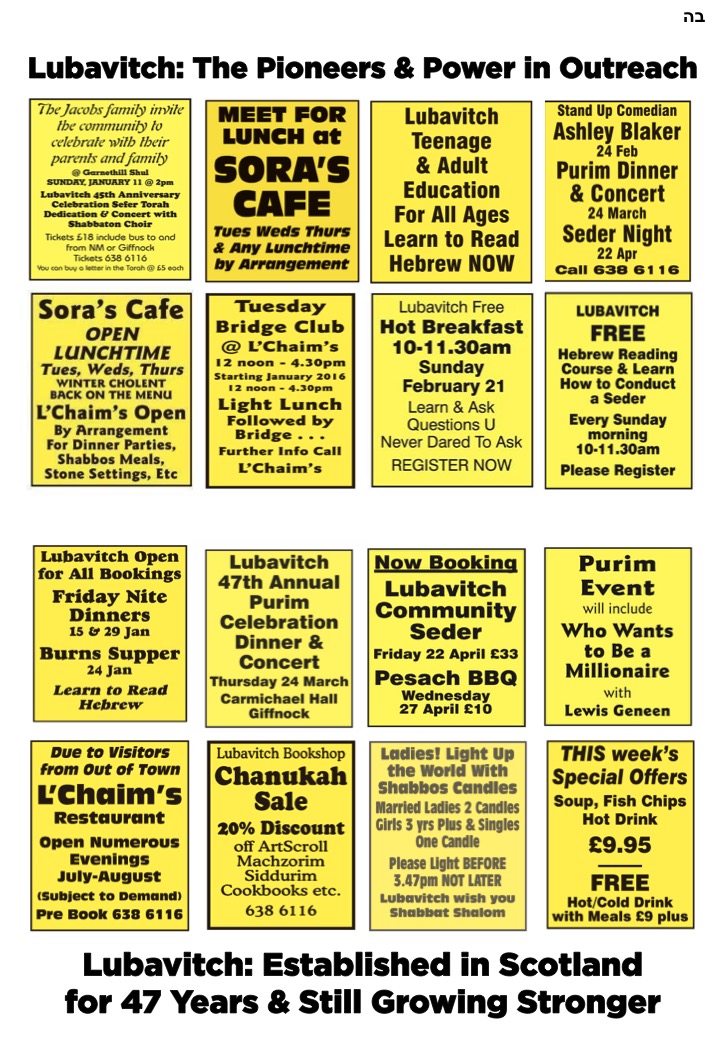 Friends of Lubavitch Scotland
Charity Number SC031 458
Kosher Food & Restaurant in Scotland
For Questions and Assistance in Matter of
Jewish Education and
Jewish Observance
* Touring info for Jewish people
* Shabbos Accommodation
* Kosher Food Availability
* Kosher Restaurant
in Glasgow, Edinburgh &
throughout Scotland
* Kosher Catering
in Scotland
* Mikve
* Daily Minyan
* Daf Ha-yomi
For everything Jewish that's happening within the
Newsletter of Activities
Glasgow and Edinburgh
Jewish Community
Edinburgh Jewish Community
Click Here
To buy a copy of the
Really Kosher Food Guide
In Great Britain Please send
£15.00 per copy including p/p
Outside the UK please send £18.00
Order by cheque or by credit card
Click Here to EMail your Order
For answers to Questions in Judaism