Lubavitch Scotland Golden Jubilee Dinner Highlights
Lubavitch Golden Jubilee Celebration Video
Pictures of Lubavitch Scotland Activities
Lubavitch of Scotland
invite you to Set Up A Monthly or Quarterly Standing Order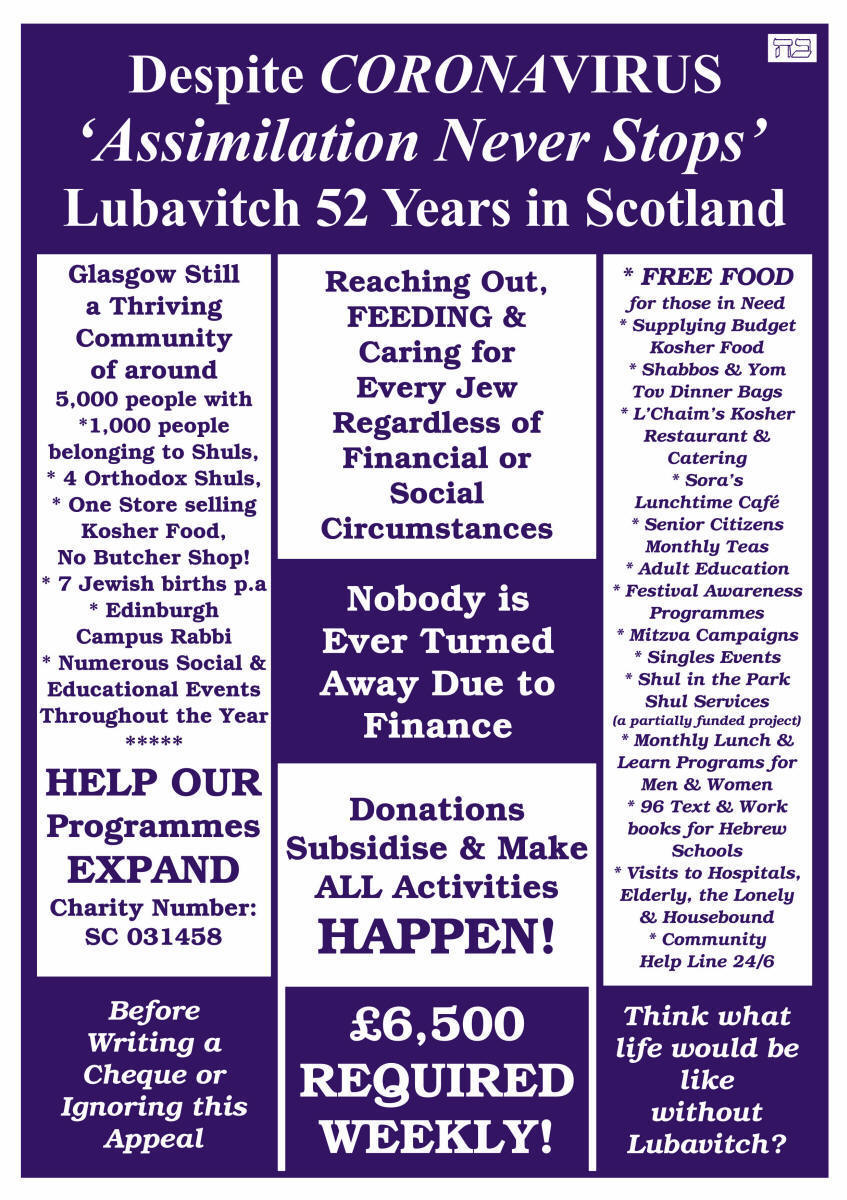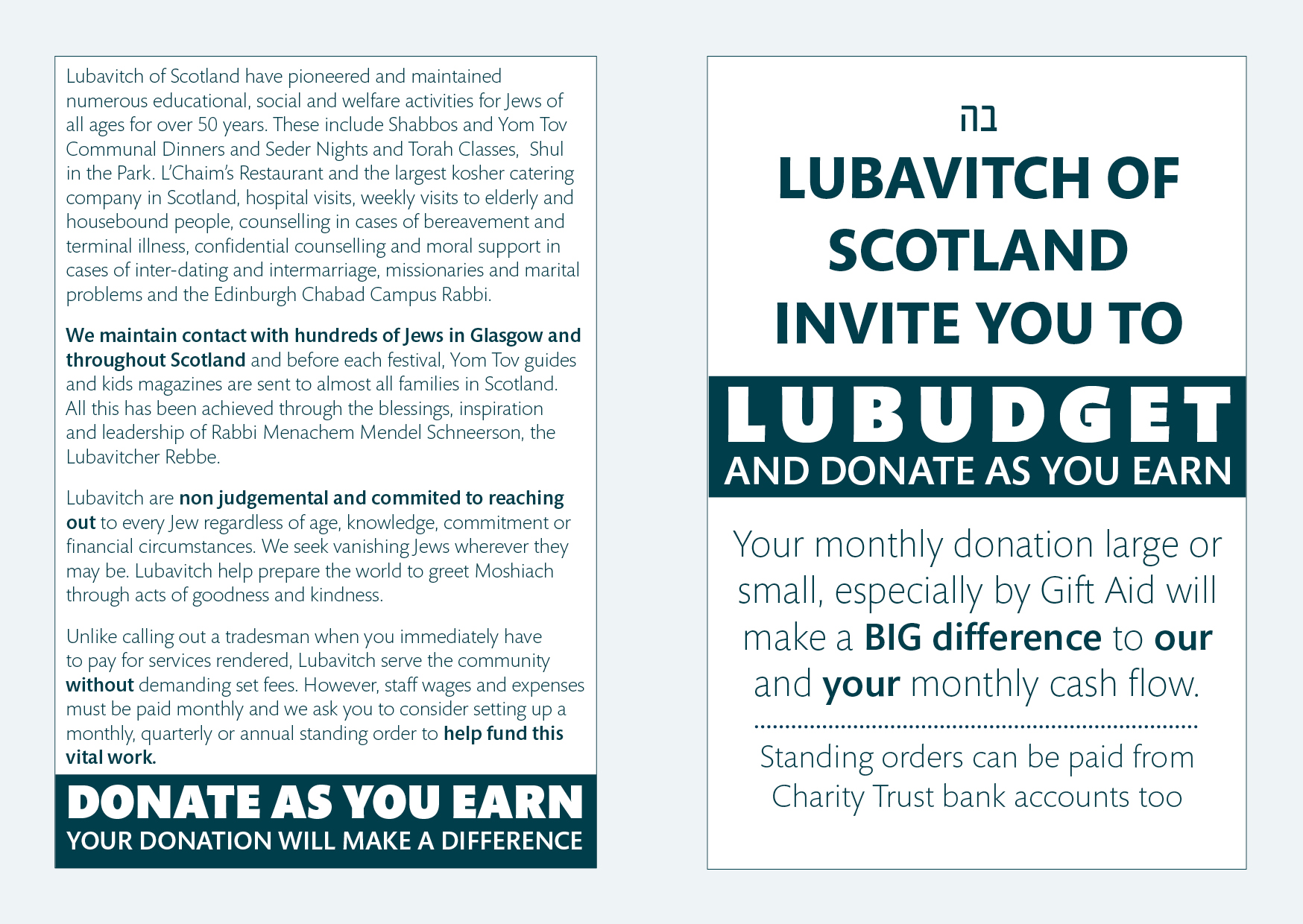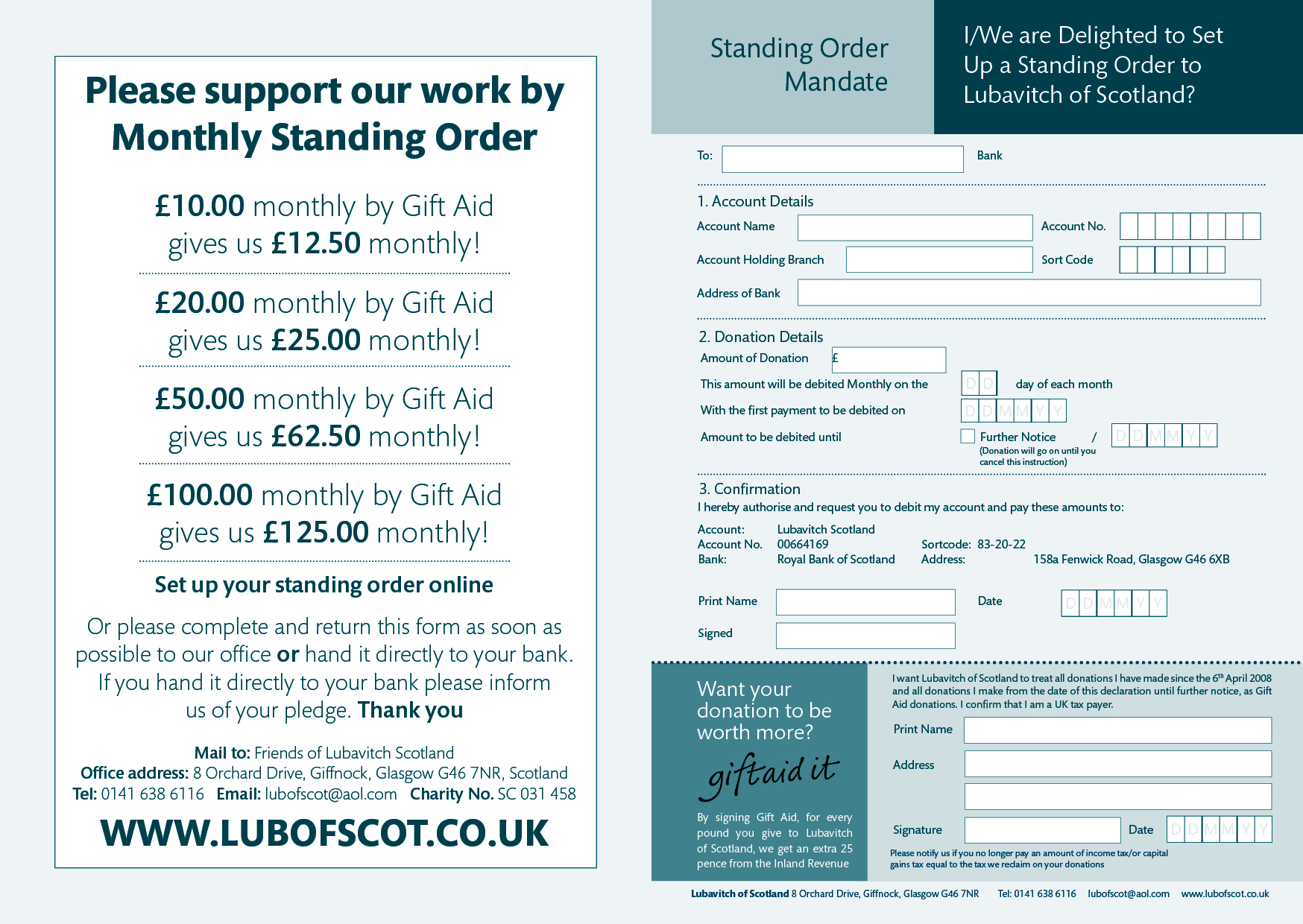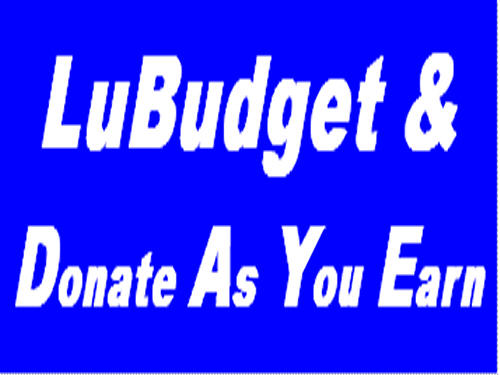 Your Donation Will Help Fund the
Following Activities and more
Donate by Paypal -- Use Code: Lubofscot@aol.com
Donate by BACS --- Sort: 83 20 22 Acc: 00664169
Pictures of Lubavitch Scotland Activities

Highlights of Purim Dinner &
Concert 5778-2018 Click Here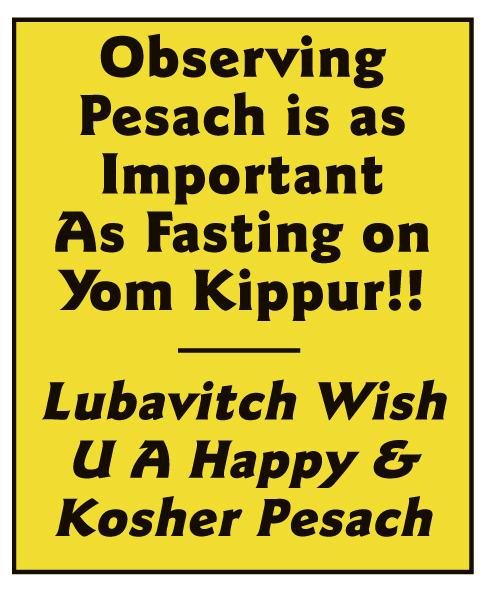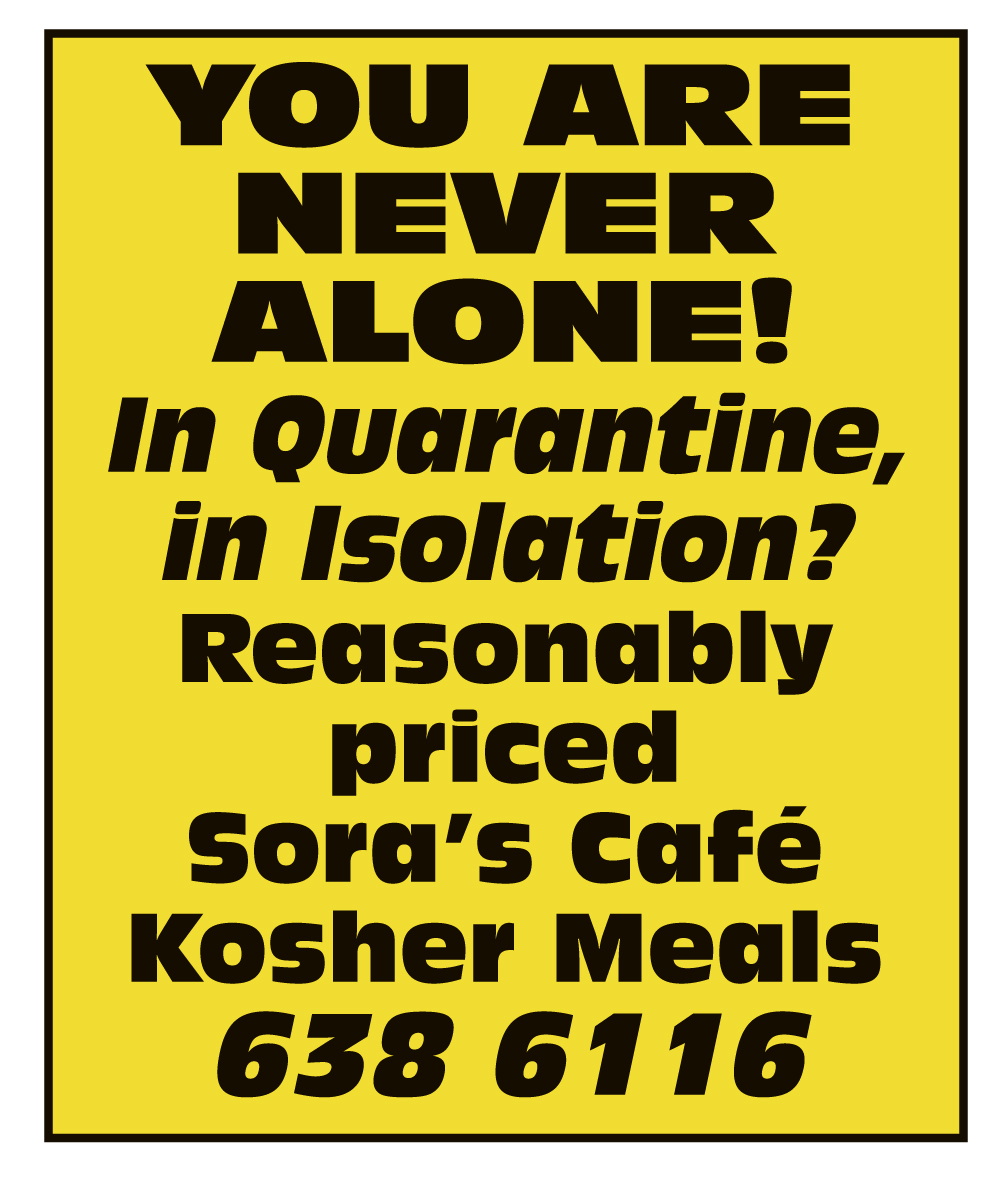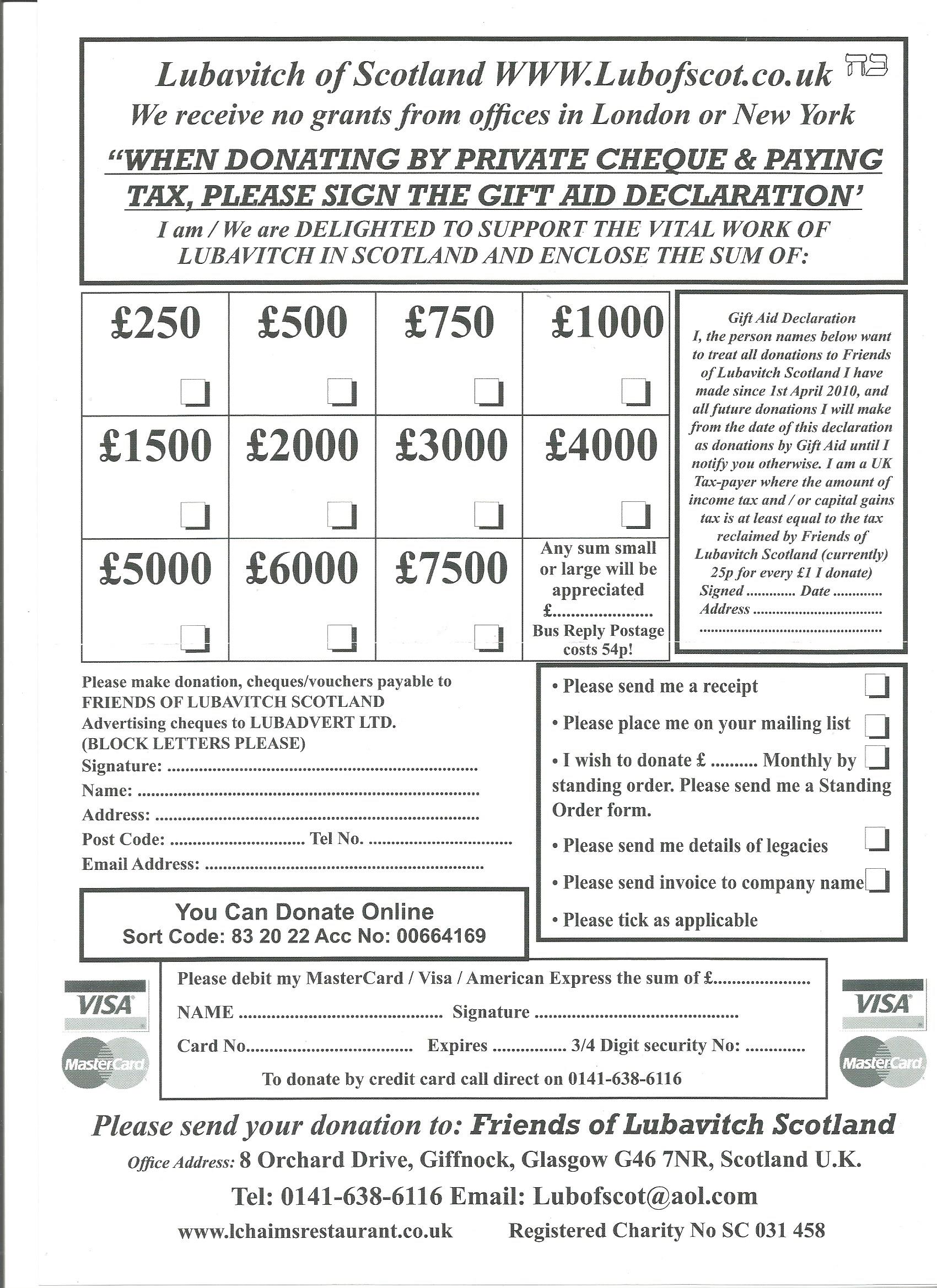 Spreading Judaism Throughout
the Year Through Fun & Laughter
Every Act of Goodness & Kindness will bring Moshiach closer
Your Generosity Funds These Programmes & Many More <![if !vml]>

<![endif]>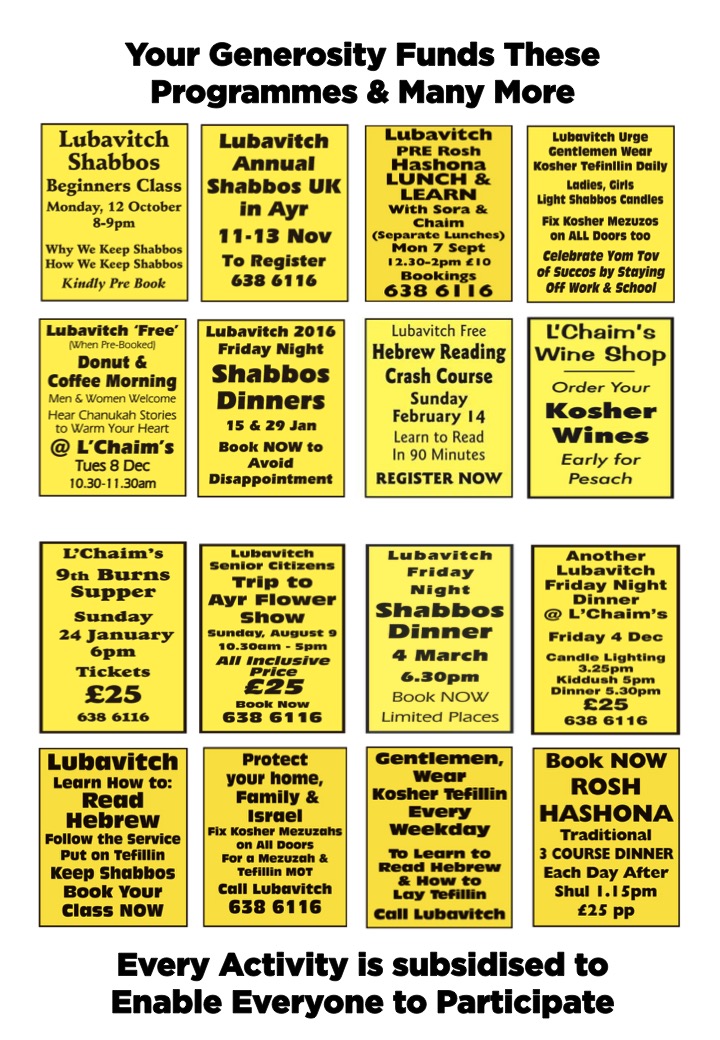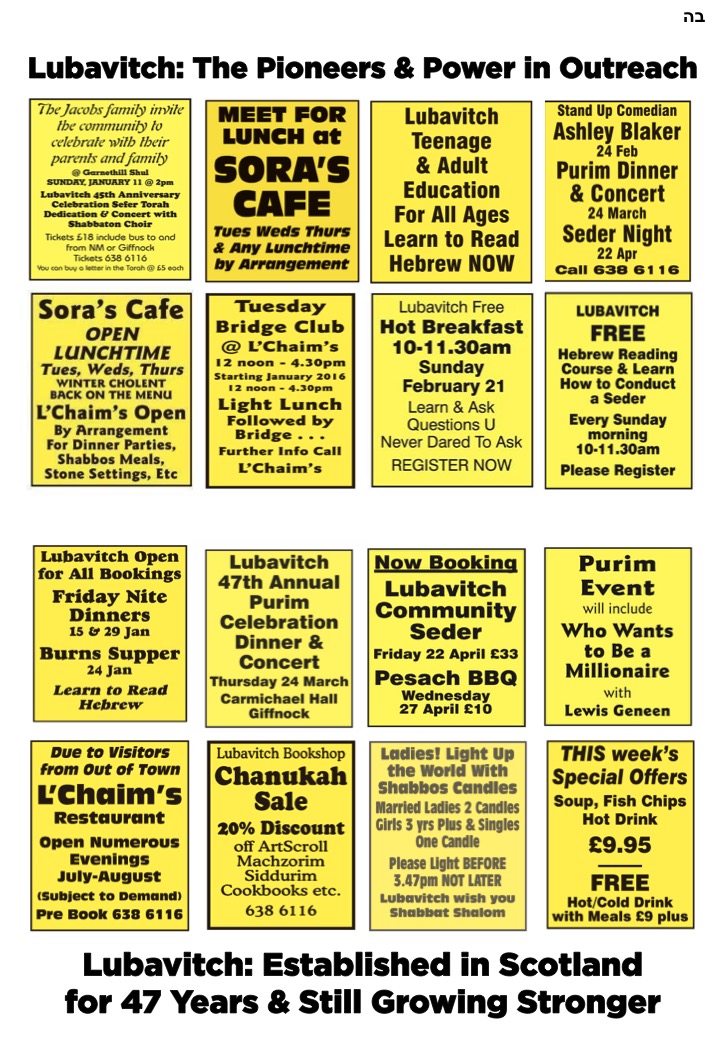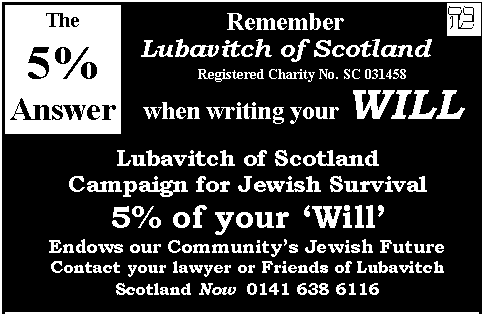 We rely almost exclusively on support from out
of Glasgow to fund our work. Your donation will
be special and much appreciated.
Your Monthly Donation Large or Small
Especially by Gift Aid
Will Make a Big Difference
to Our & Your Monthly
Cash Flow
To Set Up Your Standing Order
Kosher Restaurant in Scotland
Click Here
Lubavitch of Scotland have pioneered and maintained numerous educational, social and welfare activities for Jews of all ages for over 43 years. These include Cheder and Torah Classes, LíChaimís Restaurant, Shul in the Park (Chabad House Shul) hospital visits, weekly visits to elderly and housebound people, counselling in cases of bereavement and terminal illness, confidential counselling and moral support in cases of inter dating and intermarriage, missionaries and marital problems and the Edinburgh Chabad Campus Rabbi.
We maintain contact with hundreds of Jews in Glasgow and throughout Scotland and before each festival Yom Tov guides are sent to almost all families in Scotland. All this has been achieved through the inspiration and leadership of Rabbi Menachem Mendel Schneerson, the Lubavitcher Rebbe.
Lubavitch are non judgmental and committed to reach every Jew regardless of age, knowledge, commitment or circumstances. We seek Jews of Scotlandí wherever they maybe. Lubavitch employ a fulltime Outreach Worker to carry out much of this work.
Unlike calling out a tradesman when you immediately have to pay for services rendered Lubavitch serve the community without demanding set fees.
However, Staff wages and expenses must be paid monthly and we ask you to consider setting up a monthly, quarterly or annual Standing Order to help fund this vital work.
Regular monthly income will enable us to budget and plan future activities and pay all wages and expenses on time.