A Years
Lubavitch Activities
in Scotland
Newsletter of Activities
Your Friendship & Generous Support
Makes It Happen
Your Donation Makes a Difference


Spreading Judaism Throughout
the Year Through Fun & Laughter
<![if !vml]><![endif]>

<![if !vml]><![endif]>

<![if !vml]><![endif]>

Presenting a Menorah to
the local Provost - Mayor

Distributing Shabbos Candlesticks

Kosher Food Exhibition
500 People Attended

<![if !vml]><![endif]>

<![if !vml]><![endif]>

<![if !vml]><![endif]>

LíChaimís Scotlandís ONLY
Kosher Restaurant

Meeting with Ken Macintish MSP
& Jim Murphy MP

Fancy Dress at Purim Party

<![if !vml]><![endif]>

<![if !vml]><![endif]>

<![if !vml]><![endif]>

Putting on Tefillin at
a Local Shopping Mall

Publicising Pesach with
a 20 Foot Banner

Chanukah Fun Morning

Urging People to be
Ready to Greet Moshiach

Chanukah Bowling Event
160 Attended

Publicising the Importance
of Keeping Shabbos

Dancing at Purim Concert
210 people attended

Purim Dinner & Concert
210 people attended

Dancing at Purim Concert
210 people attended

Father, son & grandson Entertain at
Purim Dinner & Concert 2012
210 people attended

Purim Concert 2012
210 people attended

Chanukah Fun Morning

<![if !vml]><![endif]>

<![if !vml]><![endif]>

Toast to the Haggis at Burns Supper
50 People Attended

Baking at Bat Chayil Classes

Pre Rosh Hashona Table
at Asda Superstore

<![if !vml]><![endif]>

<![if !vml]><![endif]>

<![if !vml]><![endif]>

Preparing for Purim at
Hebrew School

Enjoying a Meal at
LíChaimís Kosher Restaurant

Tu Beshevat Party at
Hebrew School

<![if !vml]><![endif]>

<![if !vml]><![endif]>

Rabbi Mendel Jacobs


Designer of the Only Jewish tartan

Cheder Prize Giving with
Head Teacher Sora Jacobs
Rabbi Chaim & Sora
Rabbi Mendel & Tzirl Enjoying Purim

Tefillin Campaign in Action

Tubeshevat Fruit Platter Demo
with Tzirl Jacobs

Bat Chayil Girls
at Kosher Expo

Myra Livingstone Receiving the Lubavitch Chessed Award 2012

Sholom Jacobs Entertains
Purim 2012

MalcolmLivingstone Receiving the
Lubavitch Chessed Award 2012

<![if !vml]><![endif]>

<![if !vml]><![endif]>

<![if !vml]><![endif]>

Visiting Residents at local Jewish
Sheltered Housing Complex

Sora Jacobs with her
Bat Chayil Graduates

Lag B'Omer Family BBQ
100 attended

Tefillin Campaign in Boston USA
Father & Son
Sholom & Shmuel Singing
on Purim 2012

Lubavitch Bat Chayil Graduation
Ceremony led by their Teacher Sora Jacobs
We service the needs
of Jews in the
Glasgow Jewish Community
Edinburgh Jewish Community
and Jews throughout Scotland
All of our activities needs
to be SUBSIDISED!
* Cheder Classes
* Adult Education Programmes
* Cheder Textbooks & Workbooks Publications
* Outreach Programmes
* Single Events
* Hebrew School Textbooks & Workbooks Publications
* Mitzvah Campaigns
* Torah Laminated Games
* Day Schools Textbooks &
Workbooks Publications
Kosher Restaurant in Scotland
0141 638 6116
Support Now
Become a Partner in the work carried out
by Lubavitch in Scotland
We rely almost exclusively on support from out
of Glasgow to fund our work. Your donation
will be special and much appreciated.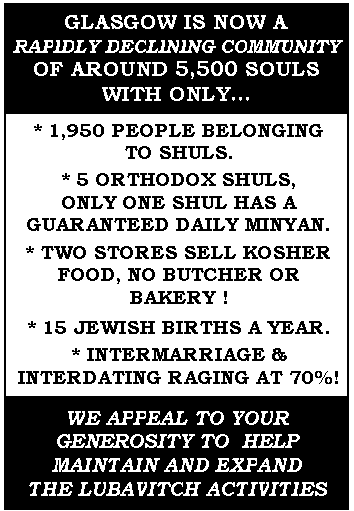 We receive no funding
from offices
in London or New York.
Your generous donation
will be much appreciated.
Glasgow Scotland
Kosher Restaurant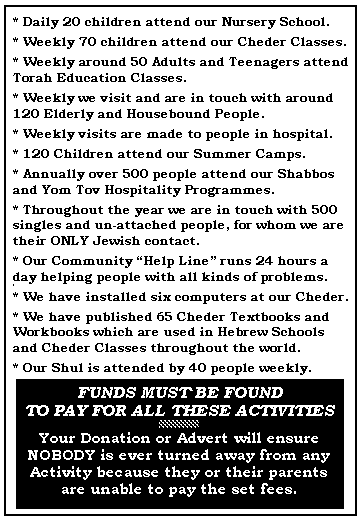 Lubavitch of Scotland requires regular financial
support in order to keep all the activities going.
Glasgow Jewish Community & Scottish Jewish
Community are no longer large Jewish communities
and we appeal for funding from anywhere in the
world to help finance our activities. You can send
your donation by mail or EMail your Visa Card or
Mastercard details below to: Lubofscot@aol.com
Please forward the following details:
Your card number:
Expiry date:
Cardholder Name:
Amount you wish to donate:
EMail to Donate@Lubofscot.co.uk

Your financial support
is very much appreciated
Charity Registration Number: SC031 458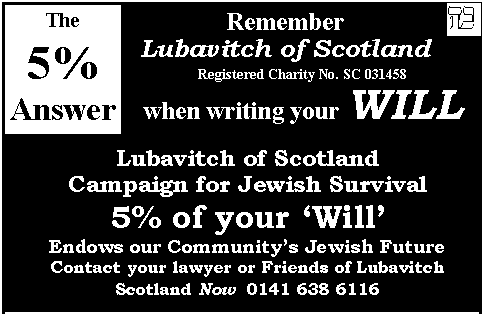 Why not sponsor a week at our
Cheder Classes?